Newman University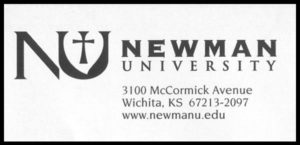 3100 McCormick
Wichita KS 67213
Phone: (316) 942-4291
Fax: (316) 942-4483
Website: www.newmanu.edu
The Steckline Gallery is located inside the De Mattias Fine Arts Center. The gallery is open Monday through Friday from 9 am to 4 pm or by appointment. Admission is free. For more information, call (316) 942-4291 ext. 2199.
The School of Arts and Humanities –
Shannon Johnston, Director of the Steckline Gallery
Deanne Zogleman, Director of Choral Music, (316) 942-4291 ext. 2196
Dr. Bryan Dietrich, Division Chair of Arts and Letters, (316) 942-4291 ext. 2226
Mark Mannette, Director of Theatre, (316) 942-4291 ext. 2486 or via email: mannettem@newmanu.edu.
This Organization received funding for general operational support from the City of Wichita The Kansas Creative Arts Industries Commission and the National Endowment for the Arts.
Board of directors
Jan-Maeve Saggerson
Alejo Cabral
Tim Rogers
Lai-L Daugherty
Teresa Seymour
Tana Ruder
Rodney Horton
Chris Wendt