Do your 4th and 5th grade students want to play the violin? Join Dominique Corbeil for small group violin lessons! Students will learn the basics of violin playing while also being introduced to many cross curricular concepts, such as geography, history, social studies and math.
Appropriate for ages: Grade 4, Grade 5
Max Audience: No more than 6 students per class.
Costs: 30-minute option 40-minute option 2016-2017 pricing information coming soon. Instrument rental or ownership is required. Please call Arts Partners for information.
Availability
Please inquire.
Artist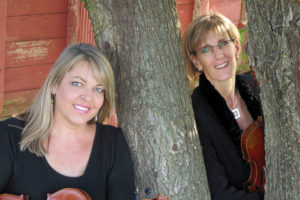 Nova Deco is a violin duo formed by Nancy Johnson and Dominique Corbeil in 2009. Wichita Symphony members and stand partners, the two violinists bring considerable experience to their performances along with the joy of playing and collaborating together.
Nancy Johnson has been Principal Second Violin in the Wichita Symphony since 2000. She is also on the faculty of Bethel College in North Newton, teaches private violin students, and performs extensively in the greater Wichita area.
Dominique Corbeil has performed with orchestras in the U.S., Europe and Canada. Currently Ms. Corbeil serves as Assistant Principal Second Violin with the Wichita Symphony Orchestra and performs with the Wichita Grand Opera, Tulsa Symphony Orchestra and the Colorado Music Festival Orchestra. Ms. Corbeil also has a busy teaching studio for violin students of all ages.
Wonderful artistry. Even our music teachers learned some new information.
J. Morton, Franklin Elementary, Wichita
This Organization received funding for general operational support from the City of Wichita The Kansas Creative Arts Industries Commission and the National Endowment for the Arts.
Board of directors
Jan-Maeve Saggerson
Alejo Cabral
Tim Rogers
Lai-L Daugherty
Teresa Seymour
Tana Ruder
Rodney Horton
Chris Wendt