The News and Clues About Didgeridoos: The Story of Australian Music
The Australian didgeridoo has been used by indigenous people to tell stories and communicate in their environment. Students will delight in this performance led by professional teaching artist Trevor Stewart, a specialist in musical instruments from around the world, as they learn about this unique instrument and its uses. The performance will also include contemporary Australian music and will conclude with a didgeridoo "song" that the students will create!
Appropriate for ages: Grade 3, Grade 4, Grade 5
Availability
Monday-Friday
Artist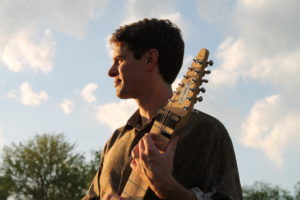 Trevor Stewart studied viola and music composition and performance at Wichita State University. Since 1998, Trevor has been playing the Chapman Stick, a unique musical instrument invented in 1969 by Emmett Chapman. See http://www.trevorstewartmusic.com/ for music performance videos and more.
Trevor also performs as part of the duos "Mirror Images" and "World Culture Party."
We love Trevor's program. We learned so much.
J. Morton, 4th/5th grade, Franklin Elementary, Wichita
Excellent job of engaging children in learning! Nice job of connecting music with geography, transportation, history, etc.! Kids and teachers really enjoyed it! Thank you!
J. Vance, Music Teacher, Lewis Open Magnet, Wichita
This Organization received funding for general operational support from the City of Wichita The Kansas Creative Arts Industries Commission and the National Endowment for the Arts.
Board of directors
Lai-L Daugherty
Aaron Boswell
Teresa Seymour
Tana Ruder
Chris Wendt