Performers Nancy Johnson and Dominique Corbeil take students on an in-depth look at how rhythm is written and played. Students will create a string instrument of their own with recycled materials and then play some rhythms on those instruments.
The workshop will include:
Explanation of rhythm, beats, note values
Handout sheet for writing note values
Discussion of how to repurpose things to make music.
Students will learn of a real orchestra where all the instruments are made from recycled materials. Amazing!
Appropriate for ages: Kindergarten, Grade 1, Grade 2, Grade 3, Grade 4, Grade 5
Costs: $170 for a 45-minute duo workshop. $530 for a 45-minute duo performance and a 45-minute duo workshop.
Artist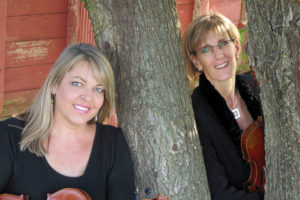 Nova Deco is a violin duo formed by Nancy Johnson and Dominique Corbeil in 2009. Wichita Symphony members and stand partners, the two violinists bring considerable experience to their performances along with the joy of playing and collaborating together.
Nancy Johnson has been Principal Second Violin in the Wichita Symphony since 2000. She is also on the faculty of Bethel College in North Newton, teaches private violin students, and performs extensively in the greater Wichita area.
Dominique Corbeil has performed with orchestras in the U.S., Europe and Canada. Currently Ms. Corbeil serves as Assistant Principal Second Violin with the Wichita Symphony Orchestra and performs with the Wichita Grand Opera, Tulsa Symphony Orchestra and the Colorado Music Festival Orchestra. Ms. Corbeil also has a busy teaching studio for violin students of all ages.
Wonderful artistry. Even our music teachers learned some new information.
J. Morton, Franklin Elementary, Wichita
This Organization received funding for general operational support from the City of Wichita The Kansas Creative Arts Industries Commission and the National Endowment for the Arts.
Board of directors
Lai-L Daugherty
Aaron Boswell
Teresa Seymour
Tana Ruder
Chris Wendt