Move On Up and Feel the Rhythm: The Roots of African American Music
African American music has woven its influence throughout all of the music that has shaped our country's culture. From Africa to America, ragtime to rap, Trevor and Rob explore the origins of this music through the songs, history and stories that have captivated our culture.
Different versions of this program are available for the following grade levels: 2nd-3rd, 4th-5th, 6th-8th.
Appropriate for ages: Grade 2, Grade 3, Grade 4, Grade 5, Grade 6, Grade 7, Grade 8
Max Audience: All school assembly
Costs: $360 duo performance
Availability
Monday-Friday
Artist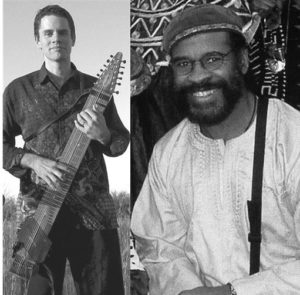 Trevor Stewart and Robert Simon
"We chose the name Mirror Images because it allows us to have some fun with our given first names being almost each other's when they are spelled backwards! We also like the ideas that (1) we are all often more alike than we are different, and (2) our audiences can be made to see themselves differently (more positively!) through the way we reflect them using our arts."
Trevor Stewart studied viola, music composition and performance at Wichita State University. Since 1998, Trevor has been playing the Chapman Stick, a unique musical instrument invented in 1969 by Emmett Chapman. Trevor has traveled extensively studying music and instruments from around the world. See http://www.trevorstewartmusic.com/ for music performance videos and more.
Rob Simon is an experienced performer/trainer/consultant who has worked with school systems and various other agencies from coast to coast. He is a former junior high social studies teacher, and also spent 12 years as a K-12 teaching specialist in a Drug and Violence Free program for schools and communities. With a masters degree in communication, Rob is also a long-time singer/songwriter who uses music as a primary tool in his work. See http://www.positiverhythm.org/ for more information.
We hoped for children to learn something about music, and to be entertained and be able to participate. All of these things happened.
Carol Furrow, Gordon Parks Academy, Wichita
This Organization received funding for general operational support from the City of Wichita The Kansas Creative Arts Industries Commission and the National Endowment for the Arts.
Board of directors
Jan-Maeve Saggerson
Alejo Cabral
Tim Rogers
Lai-L Daugherty
Teresa Seymour
Tana Ruder
Rodney Horton
Chris Wendt