Rachel McDaniel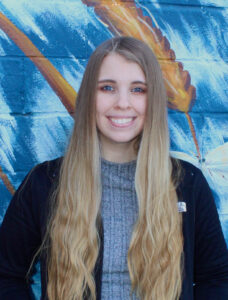 Rachel McDaniel is a Wichita native 2-Dimensional artist. She received her Bachelor of Arts with an Art History Emphasis from Wichita State University in 2019. Throughout her creative journey, Rachel has expanded her art practice beyond the canvas to ceramics and sculpture. However, painting and drawing are her true loves.
Though traditionally trained as a painter, Rachel enjoys pushing a medium to make an emphasis on mark-making and gritty texture. Her focus is on painting the human form, specifically portraiture. Though her most recent work contains concepts of memory recall, and mixed media work using embellishments from feminine products.
Currently, Rachel services as a youth art instructor for CityArts and Arts Partners. She is one of the co-owners of The Artist Lounge, and works on her own art projects.
This Organization received funding for general operational support from the City of Wichita The Kansas Creative Arts Industries Commission and the National Endowment for the Arts.