Introduces the art of puppetry with a combined storytelling performance of a traditional folktale and a puppet show based on a "fractured" version of that story. Programs are based on well-known stories, such as Three Little Pigs, Three Billy Goats Gruff, Jack and the Beanstalk, or Little Red Riding Hood. Stories are coordinated with teachers in advance. Performance can be held in a library or large classroom, but not in gymnasiums or multi-purpose rooms. Please note that audience size is limited to two classes or 60 students.
Appropriate for ages: Grade 3, Grade 4, Grade 5
Max Audience: two classes
Costs: $360 duo performance plus $25 cartage
Availability
Available Monday-Friday
Artist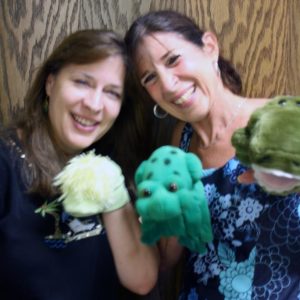 Once Upon A Puppet is the combined duo of Amy Woolf and Pamela Lamont. Amy Woolf has a master's degree in library science, and teaches workshops on storytelling and puppetry. Pamela Lamont has been an Arts Partners artist for more than a decade providing visual art, theatre and movement workshops. See their individual listings for details.
Great performance.
K. Ely, K-1st grade, Cleveland Elementary, Wichita