The "Myth"tery of Storyboarding
Storyboarding Greek mythology–Androcles and the Lion.
Objective: Students will be able to define what storyboarding is in a historical and modern sense (i.e. cave paintings at Lascaux, Egyptian hieroglyphics, Chinese pictographs, comic books and filmmaking). Students will understand sequencing (i.e. middle, beginning, end) within a story and will be able to determine the central theme or message and how it is conveyed through main events and details. Students will understand a character's motivation and point of view and explain how their actions contribute to the sequence of events. Students will understand how to partition into parts with equal areas and will understand fraction equivalence (i.e. the area of each part is a unit fraction of the whole). Students will draw figures, objects and scenery using the elements of art with an emphasis on line, color, shape/form and space.
Students will need to provide 8.5×11 printer paper, pencil, and either markers, crayons, or colored pencils.
Appropriate for ages: Grade 3
Costs: $294 (includes planning meeting and three 45-minute sessions with same students)
Artist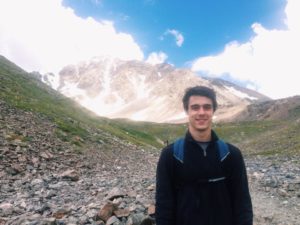 Josh Tripoli is an active artist with an unwavering commitment to high-quality aesthetic standards and professional work ethic. Tripoli specializes in abstract and representational painting and his work has been exhibited on numerous occasions at local and national galleries. Hosts include The World Monuments Fund Gallery in New York City, The Lyndon B. Johnson Department of Education Building in Washington D.C., Walnut Street Gallery, The Bomb Shelter, The Vagabond, and Caffe Moderne. Artistic honors include selections in the Scholastic Art and Writing Awards, notably a national Gold Key for the painting Monument to Poverty, a national Silver Key for portfolio, and two regional Gold Keys.
Most recently, Tripoli has been directing community paintings for the Deaf Kids' Art Network and working with the Douglas Design District on four large outdoor murals as part of a beautification and revitalization effort funded through the State of Kansas.
Josh has been so great with our kids and the staff and students at our school are so happy and impressed with our mural. Josh is extremely professional and we are so lucky to have him as part of this experience.
O. Orozco, Hamilton Middle School
Without a doubt, the ability of the teaching artist to engage and utilize the strengths of each students were remarkable. Taking students, many of whom have never enrolled in an art class, and engaging them on this level is impressive to say the least. I'd definitely recommend this program and experience to others.
S. Phillips, Wichita Collegiate School, Wichita
The students were very engaged in the process and proud of their end result.
C. Graves, McLean Science and Technology Magnet, Wichita