STEMusic Concert
A STEMusic concert is an experience that will energize students and inspire them to think about a journey in Science, Technology, Engineering, and Math. This is a concert full of singing, chanting, rapping, and of course, dancing! Students will have the opportunity to learn about multiple STEM topics and even learn new vocabulary terms. At the end of each conert, students will have a chance to join the STEMusic Nation by answering questions about what they learned. Don't hesitate to provide your students with an unforgettable and highly musical STEM immersion experience!
Appropriate for ages: Grade 3
Max Audience: 30-60 students
Costs: $286 performance, $50 supplies
Artist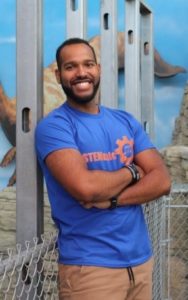 Roy Moye III is the perfect speaker for your class. Roy earned his bachelor's degree in Aerospace Engineering at Wichita State University and has worked in the Aerospace Industry as a structural design engineer for over 4 years. He has spoken on the topic of STEM in many different settings, from non-profits, to high schools, even vacation bible school camps. In the fall of 2018, Roy was invited to give three separate talks on STEM at Oberlin College in Oberlin, Ohio. He spoke about the need for diversity in STEM, encouraged students to stay in STEM majors, and shared insight on how to succeed in a STEM career. Roy is passionate about encouraging students to pursue a STEM journey and is more than willing to share how his own STEM journey came to be. Roy is a speaker that will educate, inform, entertain and inspire.