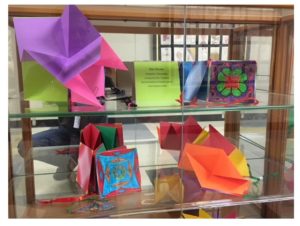 Two-dimensional paper is folded into a three-dimensional star to create a fold out book. Students design their own covers and the book may be used as a writing prompt. Please have an extra adult available to move around and help students.
Appropriate for ages: Grade 4, Grade 5, Grade 6, Grade 7, Grade 8, Grade 9, Grade 10, Grade 11, Grade 12
Max Audience: one class (20-25 max, please call office for details)
Costs: $114 (one 60-minute session), plus supplies $1.00 per student for each session
Availability
Available Monday-Friday
Artist
With a background and training in dance, theater and visual art, Pamela Lamont is a genuine Renaissance woman. A talented fiber artist and painter, Lamont's award-winning work has been exhibited regionally, as well as in Wichita galleries.
She also performs in the duo "Once Upon a Puppet," and is a Kansas Wolf Trap artist.
Pam was absolutely fantastic. She had a great rapport with the students and their classroom teachers.
A. Call, Librarian, Kensler Elementary, Wichita
The students and I really looked forward to having Pam come each day. I feel it is so important to use the arts to reach students besides using paper and pencil activities. It involves their whole body!
J. Benest, 2nd grade, Bostic Traditional Magnet, Wichita
My students had a lot of fun with the Geometric Name Design program. It was a good way to review concepts.
A. Sueper, 8th grade, St. Joseph Catholic School, Wichita