Travel in story from Africa to slavery to freedom. A microphone is required.
Different versions of this program are available for the following grade levels: K-2nd, 3rd-5th, 6th-8th, 9th-12th.
Appropriate for ages: Kindergarten, Grade 1, Grade 2, Grade 3, Grade 4, Grade 5, Grade 6, Grade 7, Grade 8, Grade 9, Grade 10, Grade 11, Grade 12
Costs: $465 ensemble performance
Availability
Available Monday-Friday
Artist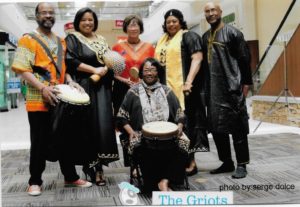 The Wichita Griots are a local professional group of storytellers who strive to foster and promote a love and appreciation of reading through the oral tradition of the arts. Three members of the Griots will come to your school for each performance. The Griots' stories and songs will acknowledge, respond to and celebrate various cultures, and communicate high expectations for acceptance of cultural contributions and perspectives.
I was totally impressed! It was awesome.
T. Paschal, Heights High School, Wichita
AWESOME! Our group really enjoyed the experience. You could hear a pin drop the kids were so mesmerized.
S. Hendrix, Allison Traditional Magnet, Wichita
Awesome presenters! the kids listened and responded well.
L. Neas, Beech Elementary, Wichita