A mural is a treasure of beauty and creativity. It allows a direct encounter with art on a daily basis, stimulating learning, self-reflection, and awareness. Through themes of union and togetherness, students will know the significance of the individual's role as a unique, essential, and substantive member of the community.
Serving as a platform for self-empowerment and accomplishment, students will work with the Teaching Artist to plan and complete a large-scale work of art. This strengthens individual and universal expression, enabling creativity and problem-solving through technical and artistic experience. Students will practice teamwork and respect through conceptual collaboration, class discussion, small-group participation, and a one-pointed vision of success.
Josh will work with you and your students to design and create a professional-level mural painted by students. Typically, a mural project involves numerous sessions including 1-2 sessions of brainstorming, researching source images, and finalizing a design idea. This process is led by the teaching artist with input and direction from students. The Teaching Artist then works with students to address practical methods, techniques, and problem solving while painting the mural in the final sessions.
Large-scale projects of this sort require thorough coordination and advance notice. Please contact our office right away if you are interested in a mural project.
Appropriate for ages: Grade 5, Grade 6, Grade 7, Grade 8, Grade 9, Grade 10, Grade 11, Grade 12
Costs: Starting at $464 for a planning meeting and five 45-minute workshops with the same students. Total cost variable depending on number of sessions, size of project, supplies and extra artist labor. Call office for details.
Artist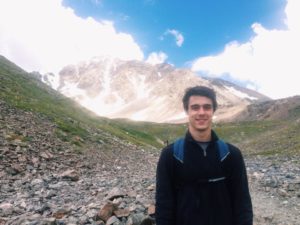 Josh Tripoli is an active artist with an unwavering commitment to high-quality aesthetic standards and professional work ethic. Tripoli specializes in abstract and representational painting and his work has been exhibited on numerous occasions at local and national galleries. Hosts include The World Monuments Fund Gallery in New York City, The Lyndon B. Johnson Department of Education Building in Washington D.C., Walnut Street Gallery, The Bomb Shelter, The Vagabond, and Caffe Moderne. Artistic honors include selections in the Scholastic Art and Writing Awards, notably a national Gold Key for the painting Monument to Poverty, a national Silver Key for portfolio, and two regional Gold Keys.
Most recently, Tripoli has been directing community paintings for the Deaf Kids' Art Network and working with the Douglas Design District on four large outdoor murals as part of a beautification and revitalization effort funded through the State of Kansas.
Josh has been so great with our kids and the staff and students at our school are so happy and impressed with our mural. Josh is extremely professional and we are so lucky to have him as part of this experience.
O. Orozco, Hamilton Middle School
Without a doubt, the ability of the teaching artist to engage and utilize the strengths of each students were remarkable. Taking students, many of whom have never enrolled in an art class, and engaging them on this level is impressive to say the least. I'd definitely recommend this program and experience to others.
S. Phillips, Wichita Collegiate School, Wichita
The students were very engaged in the process and proud of their end result.
C. Graves, McLean Science and Technology Magnet, Wichita