Life in the Middle Ages (3rd-12th grade)
What was life like in Medieval Europe? Mary Day uses replica hands-on items and participatory activities to provide students with a glimpse of life and death in the Middle Ages. Students will learn what they could expect life to have been like for them and what legacies are still with us today, i.e. visual literacy, chivalric/core values, protective clothing, etc. The 2008 Newberry Award winning book, Good Masters! Sweet Ladies! Voices from a Medieval Village, provides a good introduction or follow-up to her workshop. Teachers may request a focus on specific topics, including food, mathematics, language, crusades, heraldry, knighthood, and castle construction.
Appropriate for ages: Grade 3, Grade 4, Grade 5, Grade 6, Grade 7, Grade 8, Grade 9, Grade 10, Grade 11, Grade 12
Costs: $85 (one 45-minute session) or $114 (one 60-minute session)
Availability
Available Monday-Friday
Artist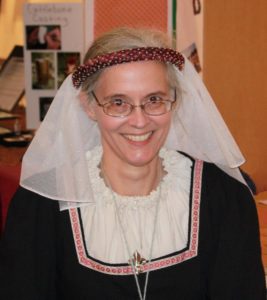 Mary Day is a former K-12 teacher who has been presenting programs on the Middle Ages and the Renaissance for more than 20 years. She will work with you to customize a program to meet your specific curriculum goals and focus on specific topics or themes. Her workshops show that history is something that is with us every day.
Very professional, touched on many curriculum areas.
K. Johnson, 3rd-5th grade, St. Margaret Mary Catholic School, Wichita