Gordon Parks' Visions: What Do You See?
Gordon Parks' Visions: What Do You See? is an Arts Partners program developed in 2015 with funding from the Ulrich Museum of Art.
What did Gordon Parks see when he took his photographs? Students will be mesmerized by the storytelling of The Griots as they share stories told in Gordon Parks' photographs. Recreating American life during the pre-Civil Rights era, this interactive and engaging storytelling group will have your students contemplating civil rights, justice, creativity, originality, devotion, and why Gordon Parks' legacy lives into the 21st century.
Students will learn about respected artist, author, and native Kansan Gordon Parks. While experiencing history and social studies topics related to Gordon Parks, students will be inspired to think critically about their own lives and experiences.
Appropriate for ages: Grade 6, Grade 7, Grade 8, Grade 9, Grade 10, Grade 11, Grade 12
Costs: $465 ensemble performance
Artist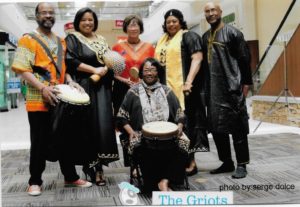 The Wichita Griots are a local professional group of storytellers who strive to foster and promote a love and appreciation of reading through the oral tradition of the arts. Three members of the Griots will come to your school for each performance. The Griots' stories and songs will acknowledge, respond to and celebrate various cultures, and communicate high expectations for acceptance of cultural contributions and perspectives.
I was totally impressed! It was awesome.
T. Paschal, Heights High School, Wichita
AWESOME! Our group really enjoyed the experience. You could hear a pin drop the kids were so mesmerized.
S. Hendrix, Allison Traditional Magnet, Wichita
Awesome presenters! the kids listened and responded well.
L. Neas, Beech Elementary, Wichita