Gordon Parks' Visions: What Do You See?
Gordon Parks' Visions: What Do You See? is an Arts Partners program developed in 2015 with funding from the Ulrich Museum of Art.
What did Gordon Parks see when he took his photographs? Students will be mesmerized by the storytelling of Ms. Jean Pouncil-Burton as she shares stories told in Gordon Parks' photographs. Recreating American life during the pre-Civil Rights era, this interactive and engaging storytelling performance will have your students contemplating civil rights, justice, creativity, originality, devotion, and why Gordon Parks' legacy lives into the 21st century.
While learning about respected artist, author, and native Kansan Gordon Parks, students will experience history and social studies topics related to Gordon Parks and be inspired to think critically about their own lives and experiences.
Appropriate for ages: Grade 6, Grade 7, Grade 8, Grade 9, Grade 10, Grade 11, Grade 12
Artist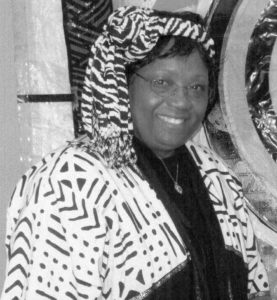 Retired librarian Jean Pouncil-Burton is a well-known storyteller and is a leading expert in the field of African American storytelling and ghost tales. Ms. Jean is devoted to embracing the oral tradition of storytelling while providing quality programs for youth that animate the human spirit, enhance the imagination, and strengthen education. Stories help us see through the eyes of others; we are able to reach across lines of gender, age, race, creed, geography, and class.
Jean is also founder of the ensemble "The Griots."
These skills all apply directly to my students' performances on their oral and written IB exams. Storytelling and improvisational speaking are important life skills.
–J. Fry, East High, Wichita
This whole storytelling assignment really just expanded my thoughts and knowledge about not only my fellow classmates, but the history of people and cultures different from mine. Storytelling has allowed me to stand back and think about the past and how it translates to today. This was freakin sweet.
–Student of J. Fry, East High IB program, Wichita
Jean Pouncil-Burton's presentation was done at an engaging pace and with the main idea clear within the story. She maintained a pace that kept the students engaged and allowed them to participate verbally. She used a rhythm that other characteristics could be used in, or any idea to motivate and support one's self.
—-K. Black, Chisholm Life Skills Center, Wichita
What an amazing presentation! The kids really enjoyed it and so did I!
—D. Urban, St. Patrick School, Wichita