Complimentary Flowers or Bugs
__________________________________________________________________________
Students will create complimentary cards. They will learn about the power of compliments and how to write an open-ended compliment that can positively impact anyone's day. They will learn to notice details in a flower or a bug and use different medium to display this on their complimentary card. At the end of the workshop, students will place their cards in a basket to draw from and leave class with a complimentary card created by a peer. Students learn how to use their energy to leave a positive mark on their community, as Delilah shares her story of the murals she has created to beautify Wichita.
Appropriate for ages: Kindergarten, Grade 1, Grade 2, Grade 3, Grade 4, Grade 5, Grade 6, Grade 7, Grade 8, Grade 9, Grade 10, Grade 11, Grade 12
Max Audience: One classroom (25 students)
Costs: $85 (one 45-minute session), plus $25 supplies fee
Availability
Monday and Tuesday
Artist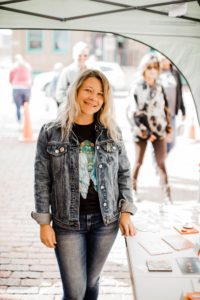 My work is a reflection of who I am in personality. It is bright and fun and hopefully makes you smile. My primary medium is acrylic paints, but I also love playing with watercolors, chalk, paint, and digital art. What I'm known for in Wichita are my murals along Douglas that have bright, bold color schemes and buggy influences. When expressing myself creatively I tend to focus on themes of nature, nostalgia, and yummy yum yum color palettes that warm my belly. I want to create art that connects with others, be it through a nostalgic memory or by sparking a new emotion or idea in their mind. With my art I have and most likely will always tend more towards that which is "child-like", carefree, and whimsical. Why draw bugs and nature? I draw things that I am delighted and fascinated by. When I see a cute little bug that I have never seen before my heart flutters and I want to learn more about it! Discovery and exploration are a big drive for me, and after I have learned about something my desire to share my new knowledge with others is immediate.
This Organization received funding for general operational support from the City of Wichita The Kansas Creative Arts Industries Commission and the National Endowment for the Arts.