Richard Crowson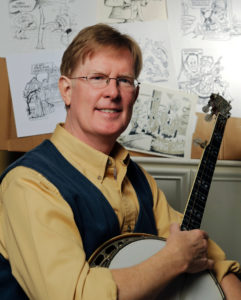 Richard Crowson is the Sunday editorial cartoonist for The Wichita Eagle. He has developed programs based on his talent as an editorial cartoonist. He is also a talented musician and has developed additional Arts Partners programs in collaboration with musician Aaron Fowler, as part of the duos "Pete and Woody" and "History Alive."
My K-2 class had the best visit yesterday with ARTS Partner Richard Crowson. He tailor made this class for my kiddos and really gave them the best performance ever. First he talked to us about the banjo history and the singing cowboy of Kansas. He taught us some songs and made sure we all knew Kansas' state song, Home on the Range. He gave us cowboy dancing lessons and let each child that wanted to strum his banjo. It was a priceless performance. My older kids will get him later this week and they are very excited. He does a wonderful job of making his performance meaningful for each child.
P. Auchterlonie, Caldwell Elementary, Wichita
I meant to write you after Mr. Crowson was here and just didn't find the time. He was AMAZING. I wish we could afford to have him perform for every student in the school! Not only was he incredibly talented and knowledgeable, but he was so good with the kids. A lot of performers don't know how to handle Kindergarteners but the minute he saw them wiggling and their short little attention spans starting to flag, he had them up and moving and captured their interest right away. Just wanted you to know how very, very pleased we were. He was worth EVERY penny! Because our kids were given this "hook", they are far more interested in learning additional facts about the time period surrounding the time of the Kansas Pioneers…something that we will be doing as we get into our Kansas Day lessons. I wish there was a higher category than "outstanding"! We can't say enough good things about Mr. Crowson and his performance. He was a complete delight from beginning to end and provided an amazing educational experience for our students!
T. Seltzer, Washington Accelerated Learning Elementary, Wichita
The students got to touch, see, listen, and learn how a banjo works and its history (which many have not ever seen before). They learned about their state. They learned how to actively clap and move together with rhythm and tempo to songs with historical connections to Kansas culture. They got to learn from an expert musician. … The students learned a lot, and wanted to discuss and know more following the program.
M. Snider, Art Teacher, Enders Elementary, Wichita