Josh Tripoli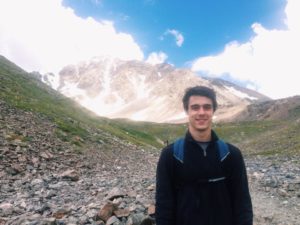 Josh Tripoli is an active artist with an unwavering commitment to high-quality aesthetic standards and professional work ethic. Tripoli specializes in abstract and representational painting and his work has been exhibited on numerous occasions at local and national galleries. Hosts include The World Monuments Fund Gallery in New York City, The Lyndon B. Johnson Department of Education Building in Washington D.C., Walnut Street Gallery, The Bomb Shelter, The Vagabond, and Caffe Moderne. Artistic honors include selections in the Scholastic Art and Writing Awards, notably a national Gold Key for the painting Monument to Poverty, a national Silver Key for portfolio, and two regional Gold Keys.
Most recently, Tripoli has been directing community paintings for the Deaf Kids' Art Network and working with the Douglas Design District on four large outdoor murals as part of a beautification and revitalization effort funded through the State of Kansas.
Josh has been so great with our kids and the staff and students at our school are so happy and impressed with our mural. Josh is extremely professional and we are so lucky to have him as part of this experience.
O. Orozco, Hamilton Middle School
Without a doubt, the ability of the teaching artist to engage and utilize the strengths of each students were remarkable. Taking students, many of whom have never enrolled in an art class, and engaging them on this level is impressive to say the least. I'd definitely recommend this program and experience to others.
S. Phillips, Wichita Collegiate School, Wichita
The students were very engaged in the process and proud of their end result.
C. Graves, McLean Science and Technology Magnet, Wichita