Adventures in Story and Song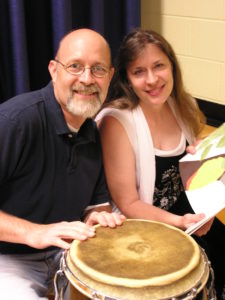 This duo brings together teaching artists Aaron Fowler and Amy Woolf, who offer classroom workshops that actively engage students in storytelling and songwriting. Storyteller and puppeteer Amy Woolf uses folktales and dramatizing with puppets to help students understand story structure and creation.
Musician and songwriter Aaron Fowler utilizes lyric writing and music to strengthen and support writing standards in the classroom.
Students loved the interactive parts … our teachers were very pleased with the presentation.
L. Casper, Robinson Elementary, Augusta